Evaluación de los contenidos de Ingeniería de Mantenimiento en la formación del Ingeniero Eléctrico en el Instituto Tecnológico de Santo Domingo
Keywords:
Competencias, ingeniería de mantenimiento, encuestas, diseño curricular, Delphi.
Abstract
El objetivo principal de esta investigación fue determinar si se requiere fortalecer la competencia profesional en ingeniería de mantenimiento en la formación del ingeniero eléctrico del Instituto Tecnológico de Santo Domingo de acuerdo con las tendencias actuales de la ingeniería de mantenimiento y requerimientos del mercado laboral de estos profesionales en la República Dominicana. Los instrumentos que se utilizaron fueron: matriz de ponderación, encuesta estratificada a egresados de la carrera, entrevista semiestructurada a los profesores de grado de la carrera y el método Delphi (consulta de experto). Como resultado, se observa que se requiere identificar de forma explícita e intencionada la formación de la competencia "diseñar, crear y optimizar programas de mantenimiento" en los egresados de Ingeniería Eléctrica del Instituto Tecnológico de Santo Domingo, por lo que se requiere perfeccionar el diseño curricular.
----------------------------------------------------------------------
The main subject of this research was to determine if it is necessary to strengthen the professional competence in maintenance engineering in the academic training of the electrical engineer of the Santo Domingo Institute of Technology (Instituto Tecnológico de Santo Domingo) in accordance with the current tendencies of the maintenance engineering and labor market requirements of these professionals in the Dominican Republic. The instruments used were: weighting matrix, stratified survey for career graduates, semi-structured interview to career undergraduate professors and the Delphi method (expert consultation). As a result, it is observed that it is necessary to identify explicitly and intentionally the formation of the competition "design, create and optimize maintenance programs" in the Electrical Engineering graduates of the Santo Domingo Institute of Technology, which requires perfecting the design curricular.
Downloads
Download data is not yet available.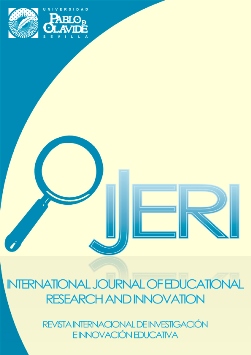 Downloads
How to Cite
Aybar Mejía, M., Del Castillo Serpa, A., Díaz Concepción, A., Villar Ledo, L., & Cabero-Almenara, J. (2018). Evaluación de los contenidos de Ingeniería de Mantenimiento en la formación del Ingeniero Eléctrico en el Instituto Tecnológico de Santo Domingo. IJERI: International Journal of Educational Research and Innovation, (10), 108–125. Retrieved from https://upo.es/revistas/index.php/IJERI/article/view/3468